If you follow my blog, you know there are two things I'm pretty big on, not coddling bullshit and ultimately finding some kind of peace or zen in all situations.
The impact of the season finale seems to heavily warrant both right now.
As I said in my first post on the finale yesterday, the end of the episode was a MAJOR DISAPPOINTMENT.  And this coming from me as someone who did not expect Olivia and Fitz to stay together or at least not in a traditional sense by the end of the season.  The actions of Fitz and Olivia continue to defy logic for me, and honestly, much like episode 213, the finale felt like an attempt to see just how far they could push the envelope instead of how to progress storylines and develop characters.  I am so disappointed in fact that I'm hesitant to do much analysis if any on this episode because I feel so many of the meaningful events in the episode were basically negated by the ending.
The last 10% of the episode ruined the remaining 90% that honestly, pretty much kicked ass and it's a damn shame.
So based on that, I had two choices
or
Guess which fuck I chose to give? Two guesses and the first doesn't count.
36 notes
Tweet
Share on Facebook
The Future Of Olivia And Fitz, And More Season 3 Scoop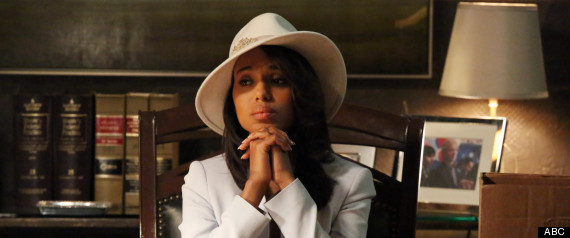 ABC's "Scandal" finale closed the climactic second season with the show's biggest bombshell yet: the mysterious Rowan (Joe Morton), the B613 boss who has been threatening Cyrus (Jeff Perry) and giving Jake (Scott Foley) his orders, is also Olivia Pope's (Kerry Washington) father. Move over, Darth Vader.
EXCERPTS:
Rhimes confirmed that there wouldn't be much of a time-jump between the end of Season 2 and the beginning of Season 3, telling THR, "I was really adamant about the fact that if we were going to end the season with the idea that Liv has been somehow outed by some unknown force and we meet her dad, we couldn't then just say we're going to jump ahead and cheat the audience of what all that meant."
Speaking to TV Guide, Rhimes observed that "[Mellie] took him back in the end, but that was a little bit like a boy coming home to his mama, wasn't it? It wasn't a romantic coming home. That's going to be a very interesting dynamic when we come back next season."
"I feel like Fitz is determined, if he can set Mellie on a path towards the truth, then this will all get sorted out, because he feels like their relationship was corrupt from its beginning. He's committed to reality, he's willing to face that. He's committed to Olivia, he's committed to forcing Mellie to deal in reality, and ultimately I think he would want Mellie to be happy. He doesn't hate Mellie." - Tony Goldwyn
Read more articles on the Scandal Finale at  THR, EW and TV Guide.
17 notes
Tweet